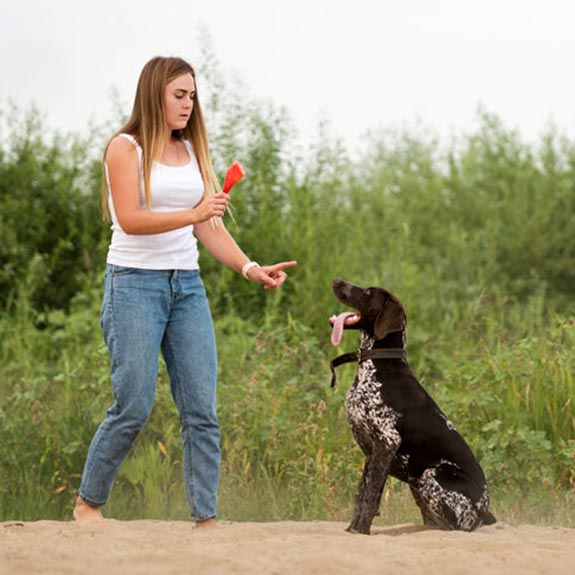 The Dog Trainer College offers an array of courses to help you become a confident, competent and effective dog trainer. The Master Trainer comprehensive course combines the skills and techniques of other courses so you will learn how to teach dogs in obedience training, protection, scent detection, service dog training, human remains detection, man-trailing, police/military k9 work, as well as Search and Rescue. You will also learn integrative business marketing techniques and management skills needed to promote your canine business. DTC also offers a unique hybrid Master Trainer Program with online learning that includes two weeks of Instruction on-site at our Training Center.
The more services you offer, the more potential there is for income! Graduates of the Master Trainer course will be ready to start or expand their business and train many different types of dogs in any role. Call today for more information or apply online to become a dog trainer or expand your skills. Please note that the Master Trainer Course is only available in the Spring (March) and Summer (July) semesters.
Please note: All students in this course will be involved as a decoy, helper, and handler. This will include bite-work with dogs in real-life settings. While safety measures will be in place, injury and/or death is a possibility. Those who are unwilling to be involved in this element of training should not apply to the Master Trainer course.
Both financial aid and/or lodging is available, if needed. With our competitive financing options, you can take this tremendous course for as little as $375/month*.
*Rates and terms will vary according to individual credit score, co-signer (if any), and amount of down payment.
calendar_month
Course Dates
---
Master Trainer Courses are Available Starting in March and July
The Next Course Begins July 5, 2023
This course meets M-F from 9am to approximately 4pm
(Depending upon class size, weather, number of dogs to train, etc)
Classes are held on-site at our facility near Spencer, IN.
Graduates receive certification as a Master Dog Trainer.
paid
Course Rates
---
This broad, intensive course is 20 weeks
$15,900.
Core

Concepts
Learn how to work with the dog – not against him; bringing out the best in the dog
Understand the concepts behind efficient training and the fundamentals of conditioning
Create your own website that will attract visitors and establish business credibility
Train a variety of dogs with a variety of needs using a variety of tools in a variety of ways
Diagnose training problems and formulate a plan to overcome them
Manage a kennel operation in a clean, healthy setting
Grasp the proper (and improper) use of dog training aids
Understand the importance of socializing puppies
House-train dogs/puppies in the best way/s possible
Use social media as a means of marketing your brand/product
Know how a dog "pack" works
Realize the need for socialization and how to be thorough in socializing puppies/dogs
Be able to train dogs in both basic and advanced obedience
Recognize canine anatomy
Identify canine behaviors and signals
Understand and implement canine ethology
Diagnose different kinds of canine aggression
Establish the foundation for beginning your own dog training business
Recognize a variety of breeds and their inherent differences
Understand the nutritional needs of the canine and how best to meet them
Recognize health issues of the canine and be able to administer emergency first aid
Understand how Search Engine Optimization works and what can be done to improve yours
Training

Skill Variety
Utilize various advertising and marketing options
Be able to effectively answer your client's questions
Realize the many kinds of training that you may consider offering to your clients
Understand methods for Search and Rescue
Teach the SAR re-find
Handle dogs in both Urban and Wilderness SAR
Grasp how to maintain SAR dogs
Select solid candidates for Police K9 prospects
Understand how to train the detection dog from start to finish
Enhance the dog's drives
Conduct practical agility
Possess a broad working knowledge of service dogs
Be familiar with the equipment used in training service dogs
Understand how to select dogs and puppies for service dogs
Install and operate a productive puppy program
Learn how to interact with disabled handlers
Learn how the delivery process works
Be able to train dogs, handlers and families
Be able to train trailing dogs
Understand Osphresiology and how it affects the search
Implement scent discrimination trailing
Be able to problem solve trailing training
Train the Touch command
Be familiar with the ADA
Learn public access laws
Understand service dog etiquette
Understand tethering
Be familiar with the public's perception of service dogs
Situational

Abilities
Learn many of the situations faced by service dog handlers in public
Be familiar with medical alert service dogs
Train hearing assistance (signal) dogs
Grasp mobility dogs training
Have at least of basic understanding of autism
Train autism assistance dogs
Train PTSD seizure alert dogs
Learn how to socialize the service dog
Familiarize yourself with the service dog in a public setting
Identify training problems and learn how to solve them
Taking service dogs into schools and workplace
Be familiar with MST and TBI assistance
Apply a solid application process with prospective clients
Develop an effective delivery process to clients
Instruct handlers, K9 supervisors, and the K9
Handle tracking/trailing dogs dependably
Recognize canine behavior on the track
Engage and neutralize a suspect
Recognize inferior qualities that would hinder reliable K9 work
Understand how genetics, upbringing, and training technique will influence the final product
Recognize the variety of equipment used in K9 training
Utilize equipment effectively, properly, and safely
Learn how to be a great decoy (helper, agitator)
Teach tracking/trailing searches in various environments
Utilize patrol containment techniques
Conduct SWAT operations with the K9
In Depth

Training Skills
Understand the need for real-life training and certifications
Select solid candidates for HRD dog prospects
Recognizing and teaching the canine's cadaver alert
Understand the use of various cadaver training aids
Utilize cadaver training aids effectively, properly, safely, and without contamination
Grasp the canine olfactory system
Comprehend how environment will affect the search
Understand scent theory
Grasp basic human decomposition
Comprehend case law that affects cadaver dog searches
Utilize various cadaver detection training methods
Understand how to dependably proof a dog
Develop a thorough search pattern
Diagnose training problems and formulate a plan to overcome them
Be able to conduct both land and water searches
Select solid candidates for detection dog prospects
Understand how to train the detection dog from start to finish
Understand the use of various detection training aids
Comprehend case law that affects canine searches
Recognize inferior qualities that would hinder reliable detection work
Handle the dog in way that will encourage effectiveness yet without hindering his work
Imprint a dog on the target odor
Utilize various detection training methods
Diagnose the right method to use with each individual dog
Employ effective search methods and technique
Master Trainer

Course Outline
Conditioning
Phases of Training
Correction vs. Reward
Basic and Advanced
Proper use of a Prong collar
Proper use of a Remote collar
Clicker Training
Baiting/Luring
Puppies
Housetraining
Socialization
Canine Anatomy
Analysis
Prevention
Treatment
Breed Awareness
Dog-to-Human Aggression
Dog-to-Dog Aggression
Canine Communication
Nutrition
Canine CPR
Canine First Aid
Kennel Management
Website construction
Search Engine Optimization
Social Media
Advertising and Marketing
Selecting prospects for SAR
Teaching Practical Agility
The Trailing Dog
Osphresiology
Narcotics and Explosives Detection
Training Human Remains Detection
Basic Human Decomposition
Imprinting
Search Methods
Teaching the Alert
Proofing
Problem Solving
Land Cadaver Dogs
Water Cadaver Dogs
Cadaver Case Law
Maintaining Cadaver Dogs
Record Keeping
Selection of Detection Dogs
Puppy development
Prey Drive
Hunting Ability
Imprinting Target Odor
Simple Direct Association
Deferred Response
Other Detection Training Methods
Search Methods
Vehicle Searches
Building Searches
Teaching the Alert
Problem Solving
Proofing
Selection of Protection Prospects
Puppy
Adult
Testing necessary drives
Protection Dog Drive Development
Puppy
Prey
Defense
Hunting Ability
Bite Sleeves
Bite Suit
Remote Collar
Proper Handling Techniques
Agitation
Working the Grip
Target Biting
Channeling Drives
Prospects
Case law
Tactical Insertions
Search & Seizure
History of K9 training
Real-life Scenario training
Scent Theory
Variable Surface Trailing
Scent Discrimination Trailing
The Bark Alert
Problem Solving
Patrol Containment Techniques
Building Searches
Open Area Searches
K9 Swat Integration
Problem Solving
Introduction to Service Dogs
Selection of Service Dogs
Working with Disabled Handlers
Delivering the Service Dog
Handler & Family Training
Americans with Disabilities Act
Public Access
Interrogations
Travel
Puppy Program
Signal Dogs
Mobility Dogs
Autism Assistance
Post-Traumatic Stress Disorder assistance
Traumatic Brain Injury assistance
Military Sexual Trauma assistance
Seizure alert and assistance
Therapy Dogs
Emotional Support Dogs
Puppy Conditioning
Public Settings
Schools