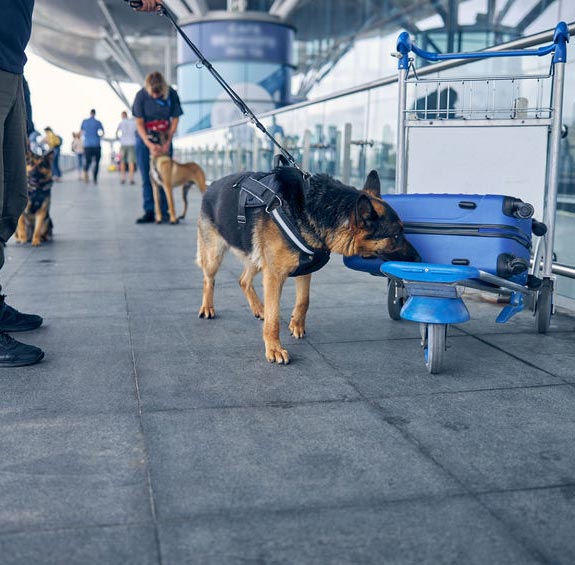 Scent Detection Dog Trainer Certification
Scent detection is an invaluable skill developed in dogs that allows them to show owners and handlers the location of illegal substances, bodies, missing persons and explosives. Using the dog's keen sense of smell, they can be trained to locate items in nearly any environment and from a distance. Through the scent detection dog trainer course at Dog Trainer College, students will gain dog training certification and will learn the skills and proven techniques necessary to train scent detection dogs. The course is taught from a balanced training approach.
Apply online and sign up for the scent detection dog trainer course today. The course is four weeks in length and is available only in the Spring and Summer semesters. However it is included in the K9 Instructor and Master Trainer courses.
Both financial aid and/or lodging is available, if needed. With our competitive financing options, you can take this awesome course for as little as $93/month.* Sorry, we do not accept VA education or voc rehab benefits. You are permitted to bring your own dog/s with you during the course.
*Rates and terms will vary according to individual credit score, co-signer (if any), and amount of down payment.
calendar_month
Course Dates
---
This in-person class begins on April 8 and August 12, 2024.
Custom start dates are available for groups.
This program meets M-F from 9am to approximately 4pm
(Depending upon class size, weather, number of dogs to train, etc.)

Classes are held on-site at our facility near Spencer, IN.
paid
Course Rates
---
Four-Week Course
$3,800
Groups of 5 or more qualify for a group discount.
Dog Selection

& Health
Select solid candidates for detection dog prospects
Recognize inferior qualities that would hinder reliable detection work
Recognize health issues of the canine and be able to administer emergency first aid
Understand how environment will affect the search
Troubleshooting
Recognizing and teaching the canine's alert
Diagnose training problems and formulate a plan to overcome them
Understand how to dependably proof a dog
Core

Training
Understand how to train the detection dog from start to finish
Be able to train dogs in both basic and advanced obedience
Enhance the dog's drives
Utilize training aids effectively, properly, safely, and without contamination
Grasp the canine olfactory system
Handle the dog in way that will encourage effectiveness yet without hindering his work
Scent Detection

Training
Imprint a dog on the target odor
Utilize various detection training methods
Learn about Osphresiology and how it affects the search
Diagnose the right method to use with each individual dog
Employ effective search methods and technique
Be able to conduct various kinds of searches
Selection of Detection Dogs
Basic and Advanced, On/Off Leash
Proper Use of Remote Collar
Proper Use of Prong Collar
Puppy development
Prey Drive
Hunting Ability
Detection training aids
Handling of training aids.
Canine Olfactory system
Scent Cone
Imprinting Target Odor
Simple Direct Association
Deferred Response
Other Detection Training Methods
Search Methods
Vehicle Searches
Building Searches
Teaching the Alert
Problem Solving
Proofing
Handler operations
Canine First Aid
Case Law