In order to protect the integrity of the German Shepherd, we carefully select our breeding animals to uphold and enhance breed veracity by producing a solid working dog and stable home companions. We go to Europe and personally hand-select our breeding dogs. Only dogs with stable temperaments and the ability to work are bred. Our dogs are neither shy nor aggressive. They are alert, responsive, active, confident, healthy, and possess a solid nerve and balanced drive. Breeding this type of dog produces puppies that are worthy of the name German Shepherd. Parents have had their hips/elbows x-rayed and free of dysplasia, are current on shots, and imports have a DNA profile. These and other amazing qualities make Conifer Canine a solid source among German Shepherd breeders. We have produced confident family companions, drug dogs, bomb dogs, cadaver dogs, protection/police/security dogs.
Max von Stephanitz, "father" of the GSD
His motto was "breeding German Shepherd Dogs is breeding working dogs, otherwise it is not shepherd breeding." We have heartedly adopted that same motto.
"Make sure my shepherd dog remains a working dog, for I have struggled all my life for that aim." He devoted 37 years of his life to "create" his "shepherd dog."
Thiago de la Corona, DPO 1
Born: 8/1/15
Thiago is a sable, German-import male who loves to work. He takes his work very seriously but is also a social boy with his family. He's a super-strong yet clear-headed male who loves life and enjoys every moment. He passes on his confidence and strength to his progeny. His drive for work is phenomenal! He has been health tested through Embark. His hips/elbows are excellent and he is DM clear.
Wasabi del Camino Duro
Born: 4/10/16
Wasabi is a sable import from Germany.  She comes from a bloodline of strong, healthy working dogs, known for producing excellent hips/elbows, strength, and working ability.  Wasabi lives to work and please her handler.  She is social and strong, with a solid full bite.  She is always looking for more, with a zeal for life and activity.  Her hips and elbows are "a" normal. She has been health tested through Embark.
Milka del Camino Duro
Born: 5/28/17
Milka is a solid, fast female with very strong nerves and the ability to handle stress. She scored an impressive 990 out of 1000 in the German talentsichtung with RSV2000. She's a strong working female yet is a trusted family dog. Her hips and elbows are excellent. She is OCD free and clear of Degenerative Myelopathy.
Wasa del Camino Duro
Born: April 9, 2020
Wasa is a clear-headed outcross female purposely selected into our breeding program for all of the amazing qualities her pedigree brings to the table.  She has a nearly-perfect working dog body structure.  She possesses vitality, trainability, and environmental stability.  One of her strengths is her genetic diversity (DNA 7%) that encourages better health, longevity, and temperamental soundness.  Her hips and elbows are A-normal.  Her embark genetic testing results are 100% clear.
Darcy Monur
Born: 3/19/10 ( died 7/23/22 )
Forever missed, Dara (as she was called) was a true working dog and friend. Protection dog, narcotics detection dog, trailing dog. She was always ready to work and eager to spend time with her family.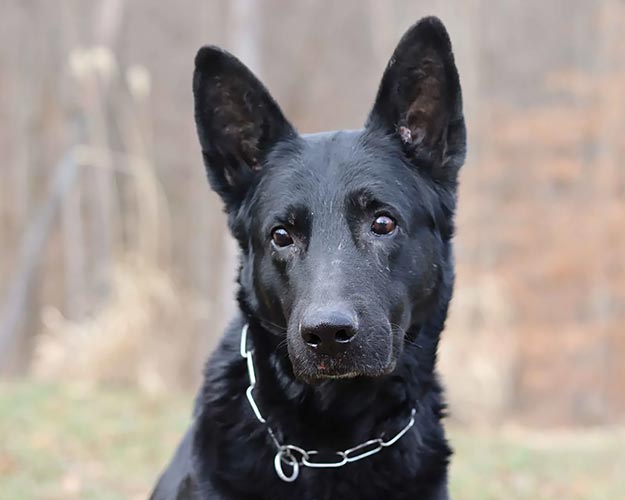 Cid von der Ellerbackbrucke, IPO 3
Born: 11/28/09 ( died 6/20/20 )
Cid is a powerful male with a firm full grip on the bite, strong drive, yet balanced and clear-headed. He comes from very successful performance lines without inbreeding. He is a beast when working yet a very family-oriented dog. He received very high scores in his IPO trials, 99, 97,98. His hips and elbows are "a."