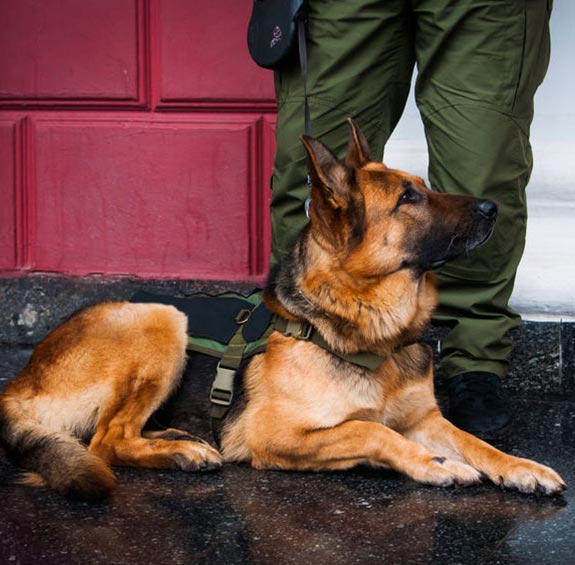 Students will learn how to train all the behaviors needed in effective police dogs and/or military working dogs.  Our police dog trainer school provides a full focus upon K9 training and includes basic and advanced obedience as well as practical hands-on lessons in tactical insertions, report writing, case law and more.  The course is taught from a balanced training approach.  You will learn about training equipment, record keeping, tracking, explosives and narcotics detection, drive development, first aid and much more. Using real-life situations, trainers will learn what it takes to train effective K9 units from the start to finished product.  Students desiring to train pet dogs, handle canine behavioral issues, and hone business ownership skills may add-on the Obedience/Behavior course, which begins six weeks prior to the K9 Instructor course.
Learn how to train police dogs, tracking dogs, scent detection dogs and more. Graduates will be ready to hit the ground running and start training active police/military/security dogs upon graduation.  The K9 Instructor course excludes Human Remains Detection and Search/Rescue (these skills are included into the Master Trainer Course).
This course is included in our Master Trainer program.  Applications must be received in our office no later than two weeks prior to the start date.  Custom start dates can be arranged for groups.  A group discount is available for groups of 5 or more.
Please note:  All students in this course will be involved as a decoy, helper, and handler.    This will include bite-work with dogs in real-life settings.  While safety measures will be in place, injury and/or death is a possibility.  Those who are unwilling to be involved in this element of training should not apply to the K9 Instructor course
Both financial aid and/or lodging is available, if needed.  With our competitive financing options, you can take this awesome course for as little as $139/month.*  Sorry, we do not accept VA education or voc rehab benefits.
*Rates and terms will vary according to individual credit score, co-signer (if any), and amount of down payment.
calendar_month
Course Dates
---
Classes in this course begin April 8, August 12, and (possibly) October 2, 2024.
This course meets M-F from 9am to approximately 4pm
(Depending upon class size, weather, number of dogs to train, etc)
Classes are held on-site at our facility near Spencer, IN.
Graduates receive certification as a K9 Instructor.
paid
Course Rates
---
Six-Week Course
$4,900
Core

Concepts
Understand the concepts behind efficient training
Diagnose training problems and formulate a plan to overcome them
Recognize health issues of the canine and be able to administer emergency first aid
Select solid candidates for Police K9 dog prospects
Understand how to train the detection dog from start to finish
Comprehend case law that affects utilization of a K9
Efficient

Training
Conduct practical agility
Instruct handlers, K9 supervisors, and the K9
Handle tracking/trailing dogs dependably
Recognize canine behavior on the track
Engage and neutralize a suspect
Recognize inferior qualities that would hinder reliable K9 work
Equipment

and Techniques
Recognize the variety of equipment used in K9 training
Utilize equipment effectively, properly, and safely
Learn how to be a great decoy (helper, agitator)
Teach tracking/trailing searches in various environments
Learn about Osphresiology and how it affects the search
Conduct SWAT operations with the K9
Working

With A K9
Learn how to work with the dog – not against him; bringing out the best in the dog
Understand how genetics, upbringing, and training technique will influence the final product
Understand the need for real-life training and certifications
Enhance the dog's drives
Utilize patrol containment techniques
Conditioning
Phases of Training
Correction vs. Reward
Basic and Advanced
Proper use of a Prong collar
Proper use of a Remote collar
Canine CPR
Canine First Aid
Kennel Management
Teaching Practical Agility
The Trailing Dog
Osphresiology
Narcotics and Explosives Detection
Puppy development
Prey Drive
Defense Drive Hunting Ability
Bite Sleeves
Bite Suit
Muzzle
Proper Handling Techniques
Agitation
Working the Grip
Target Biting
Channeling Drives
Scent Theory
Variable Surface Trailing
Scent Discrimination Trailing
Problem Solving
Patrol Containment Techniques
Building Searches
Open Area Searches
K9 Swat Integration
Problem Solving
Case law
Tactical Insertions
Search & Seizure
History of K9 training
Real-life Scenario training
Training the Search (Narcotics & Explosives)
Imprinting Target Odor
Simple Direct Association
Deferred Response
Other Detection Training Methods
Search Methods
Vehicle Searches
Building Searches
Teaching the Alert
Problem Solving
Proofing