College classes meet from approximately 9-4, Monday-Friday, excepting major US holidays. Each course is very hands-on with a major emphasis on practical training. We include classroom exercises, training theory, lecture, and methodology, however the applied implementation of that theory is our focus. Professional trainers need to know how to train and why they are using a particular method/s in training.
Our rural setting is truly perfect for all aspects of dog training. Whether it's tracking, subduing a suspect under gunfire, searching for cadavers, or simple obedience training, dogs and students alike find our location conducive to a quality education. Our classrooms, kitchen, lodging rooms, lounge area, and kennel are climate-controlled year round. Our cabin in the woods includes an education room supplied with all the modern amenities for a quality education; video presentations, desks, whiteboards, and more.
Students will have access to a kitchen (fridge/freezer, oven, microwave, sink, etc) where lunch can be prepared and eaten. An hour lunch break is given each day. Students may eat lunch on the premises and/or there are several restaurants nearby. Students must provide their own meals. Students who bring their own dogs will be responsible to give them a potty break as needed.
Training is done in various weather conditions. Please dress appropriately for these conditions. In colder weather; dressing in layers is recommended. Much of the training is done outdoors. Lectures and other classroom instruction is conducted mainly indoors.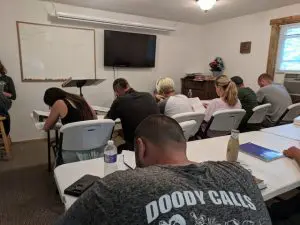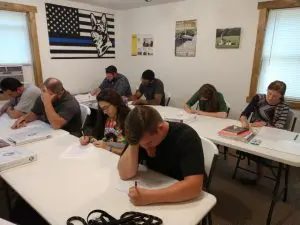 Students in the dog training school will be exposed to many facets of canine behavior and training. Students will learn helpful methods, will be forewarned of harmful myths, and acquire practical hands-on experience. Graduates will have the skills needed to begin or enhance their own quest in a canine training career.
These integrated courses teach proven methods of successful canine training. Some of the highest standards of performance in the dog training industry are taught here. Students completing a course in our dog training school with a passing grade will receive Certification in their respective field/s of study. Alumni know they have been given an unmatched education.
The grading system is geared towards 30% bookwork, tests, training theory and 70% hands-on training and testing. Students who complete the course with a 94-96% receive a Merit Certificate. Students who complete the course with a 97-100% receive an Honor Certificate.
We're here to help you achieve your goals! If competence, professionalism, and success is your aim, we're here for you. Our classes will empower you to become the best dog trainer you can be – through training theory and practical experience. There is no better balance found anywhere. Real-world trainers will need this kind of background to be competent and complete in the services they offer.
The Dog Trainer College is located 5 miles north of Spencer, Indiana (15 minutes from Cloverdale & I-70, 30 minutes from Martinsville, 45 minutes from the west side of Indianapolis, 1 hour from Terre Haute, 2 hours from Louisville, KY, and 3 hours from St. Louis, MO). Our address is 717 Beaver Hollow Rd, Spencer, IN 47460.
For the health and safety of our students, staff, and canines, the College is a smoke-free, vape-free, drug-free, and alcohol-free campus. We desire that everyone who attends will have a positive, active, learning atmosphere.