Get your dog training certification and start working with dogs as your profession. Dog Trainer College gives you the knowledge, skills and experience necessary to work as a professional dog trainer. From scent tracking to K9 police units to kennel managmement to advanced obedience training, you will learn every facet of dog training and, upon graduation, you will have the skills required to train any dog effectively.

Students at our dog trainer school will be gain comprehensive knowledge of canine behavior and proper training methods. Through practical hands-on experience with expert trainers in the field, each student will learn how to train certain behaviors and roles, from puppy-hood to adulthood. Students will also learn essential business marketing and management tools to create a successful dog training business and hit the ground running when they graduate.
Whether you already have a canine business and you want to expand your knowledge and skills or you want to start your career as a dog trainer, we can help. Give us a call today or watch the videos to learn more and apply online to sign up for classes.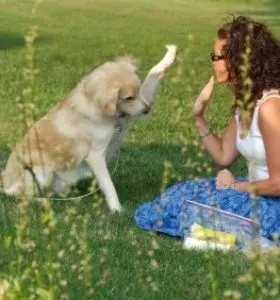 Our exceptional services include:
Lessons given by certified and experienced trainers.
Optional student housing.
Certification/s received from a reputable institution.
Hands-on experience. Each student actually gets to train dogs; not merely watching instructors or other students.
High standard of performance. An unbeatable education.
Financial aid is available, including GI Bill and veteran education benefits. There's no need for crushing debt load in receiving a superior dog trainer education!
Access to an instructor for Q/A before problems arise or inferior training habits are formed. Our student to instructor ratio is typically 4 to 1.
International students welcome!
Learn in the environment of a fully operational award-winning training facility.
Many schools do not give their students a full plate, withholding helpful information. Frankly, they're fearful of your future competition. For other schools, the stench of arrogant staff is overwhelming. And most online courses are very weak (at best). But at DTC, it's all on the table! We view things differently here. The way we look at it, if you succeed – we succeed. We will do our best to empower your vision and feed your dream. We have assembled powerful programs of study that are geared for your success!
Our graduates give DTC very high marks! Our students and graduates have told us:
"The amount I am learning is phenomenal!"
"I thought I knew dogs. When I came here, I found out what I DON'T know. I have learned far more than I ever expected!"
"The hands-on training with oversight from an experienced instructor is a strength of the course!"
"The instructors are very knowledgeable, the tuition is competitive, and I feel like I'm prepared to train on a professional level."
"I owe all my success to DTC!"
"You have taught me far more than I ever thought I would learn."