We carefully select our breeding animals to uphold and enhance breed integrity by producing solid working dogs and stable home companions. Only dogs with stable temperaments and the ability to work are bred. Our dogs are neither shy nor aggressive. They are alert, responsive, active, and healthy, yet possess a solid nerve and balanced drive. Breeding this type of dog produces puppies that are worthy of the name German Shepherd. Their hips/elbows are x-rayed and free of dysplasia, are current on shots, and imports have a DNA profile. These and other qualities make Conifer Canine a solid source among German Shepherd breeders.
Max von Stephanitz, "father" of the GSD
"The breeding of shepherd dogs is the breeding of working dogs; and this must always be the aim, or we shall cease to produce shepherd dogs."
"Make sure my shepherd dog remains a working dog, for I have struggled all my life for that aim."
Bakaro z Duhoveho lesa BH
born December 29, 2007
Bak is a dark sable, very balanced male from the Czech Republic. He produces confident, intelligent, trainable, driven pups. He comes from an impressive working pedigree including great names like Nick v. Heiligenbosch, Mink v. Haus Wittfield, and Orry v. Haus Antverpa. Bak's hips/elbows are both 0/0. He is a super family dog and a tremendously powerful worker all rolled into one. Full bites, confidence, DRIVE!
​Bak's pedigree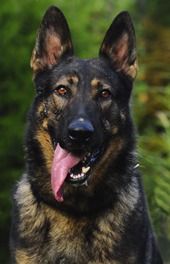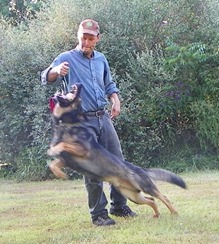 D'arcy Monur
born March 19, 2010
Darcy is a solid black working female imported from the Czech Republic. She brings a lot of drive, confidence, strength, super attitude, and charisma to the breeding table. Her hips are 1/1 and elbows 0/0. Although she is a wonderful family companion, she was born to work! Solid bite, strong nerves, loves detection work, and is a tracking machine! Loves her family and very serious about her work.
Linda z Kabac
born March 12, 2014
Linda is a black/tan import from the Slovak Republic. She comes from a bloodline of strong working dogs. Linda is a detection fiend with very solid protection work as well. She is social, strong, with a solid full bite, always looking for more, with a zeal for life and activity. Her hips and elbows are "a" normal.