We carefully select our breeding animals to uphold and enhance breed integrity by producing a solid working dog and stable home companions.  We go to Europe and personally hand-select our breeding dogs.  Only dogs with stable temperaments and the ability to work are bred.  Our dogs are neither shy nor aggressive.  They are alert, responsive, active, and healthy, yet possess a solid nerve and balanced drive.  Breeding this type of dog produces puppies that are worthy of the name German Shepherd or Belgian Malinois.  Parents have had their hips/elbows x-rayed and free of dysplasia, are current on shots, and imports have a DNA profile.  These and other amazing qualities make Conifer Canine a solid source among German Shepherd breeders and Belgian Malinois breeders.
Max von Stephanitz, "father" of the GSD
"The breeding of shepherd dogs is the breeding of working dogs; and this must always be the aim, or we shall cease to produce shepherd dogs."
"Make sure my shepherd dog remains a working dog, for I have struggled all my life for that aim."  He devoted 37 years of his life to "create" his "shepherd dog."
D'arcy Monur
born March 19, 2010
Darcy is a solid black working female imported from the Czech Republic. She brings a lot of drive, confidence, strength, super attitude, and charisma to the breeding table. Her hips are 1/1 and elbows 0/0. Although she is a wonderful family companion, she was born to work! Solid bite, strong nerves, loves detection work, and is a tracking machine! Loves her family and very serious about her work.
Wasabi del Camino Duro
born April 10, 2016
Wasabi is a sable import from Germany.  She comes from a bloodline of strong, healthy working dogs, known for producing excellent hips/elbows, strength, and working ability.  Wasabi lives to work and please her handler.  She is social and strong, with a solid full bite.  She is always looking for more, with a zeal for life and activity.  Her hips and elbows are "a" normal.
Milka del Camino Duro
born May 28,2017
Milka is a solid, fast female with very strong nerves and the ability to handle stress.  She scored an impressive 990 out of 1000 in the German talentsichtung with RSV2000.  Her hips and elbows are "a."  She is OCD free and blood-test free of Degenerative Myelopathy.
Reunion Jerry 
born October 3, 2019
Male Belgian Malinois, nicknamed "DiOGi."  He is a serious worker:  solid grip, avid bomb dog, and a reliable tracker.  DiOGi also brings a balance that is hard to beat.  Super high drive yet good with family, including children.  His hips and elbows are dysplasia-free.  He has a nice pedigree from German and Belgian lines.
Malu de la Vallee de Luvry
born October 21, 2016
Malu is strong female Malinois who works hard.  She loves to protect her handler, is gentle with family, has puppies in police work and personal protection settings, and is a Bed Bug detection dog.  She comes from a hard-working pedigree from France with many solid French Ring titles.  She is HD – A, ED – 0. 
Bakaro z Duhoveho lesa BH
born December 29, 2007
RIP Bak, November 6, 2017.  Forever missed.
Bak is a dark sable, very balanced male from the Czech Republic. He produces confident, intelligent, trainable, driven pups. He comes from an impressive working pedigree including great names like Nick v. Heiligenbosch, Mink v. Haus Wittfield, and Orry v. Haus Antverpa. Bak's hips/elbows are both 0/0. He is a super family dog and a tremendously powerful worker all rolled into one. Full bites, confidence, DRIVE!
​Bak's pedigree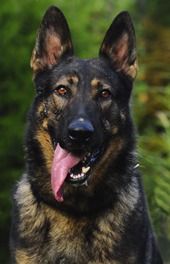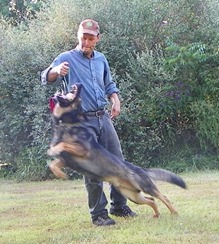 Cid von der Ellerbackbrucke, IPO 3
born November 28, 2009
RIP Cid, passed 6/20/20
Cid is a powerful male with a firm full grip on the bite, strong drive, yet balanced and clear-headed.  He comes from very successful performance lines without inbreeding.  He is a beast when working yet a very family-oriented dog.  He received very high scores in his IPO trials, 99, 97,98.  His hips and elbows are "a."   Cid's pedigree