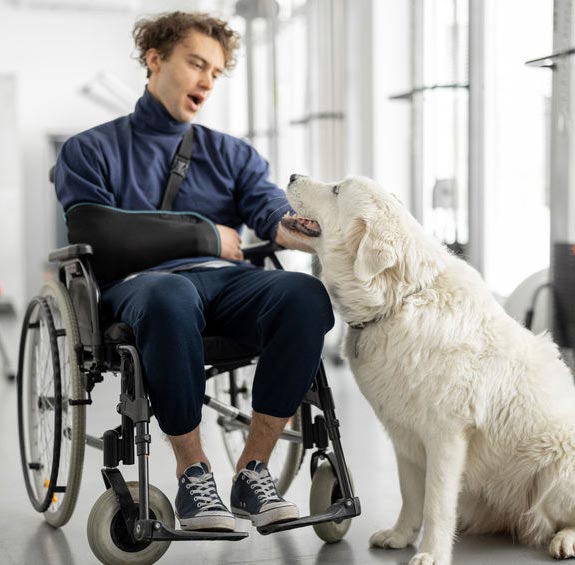 Service Dog Training
PTSD
Autism assistance
Seizure alert and assistance
Medical alerts for high/low glucose events
Mobility assistance
Traumatic Brain Injury
Hearing alertand more!
Service dogs decrease the disabled party's dependence upon human assistance. They help to lighten the load of the disabled as well as other members of the family. Service dog training is molded to fit the specific needs of the individual. They also come with free lifetime follow-up. We take the time to educate the owner/handler/helper on how to maintain the dog's training throughout her lifetime of service.

Service Dog


Training Classes
According to the Americans with Disabilities Act, a service dog is one "that is individually trained to do work or perform tasks for an individual with a disability…. The task(s) performed by the dog must be directly related to the person's disability." Some states recognize other animals as service animals but only dogs are recognized on a national level. Unfortunately, the ADA's definition does not include therapy dogs or emotional support dogs.
Due to the intense amount of time/effort in socialization, service dog training tends to be expensive. Training can take from 6-24 months to complete, depending upon the number of tasks to be trained. We often have puppies or young adults who have already conquered the basics and are eager to begin their specialized training. Check our For Sale page for dogs available for service dog work.
Contact us for your next service dog: 812-650-2394
Do you desire to train service dogs on a professional level? Consider our trainer course! Classes are forming now.