German Shepherd Puppies and Belgian Malinois Puppies For Sale
We are serious breeders of working German Shepherds and Belgian Malinois. Our breeding dogs/bitches are European imports who have proven the ability to be a working dog. We typically have a litter or two of GSD pups per year and one Malinois litter per year. Our focus is producing a well-balanced working dog that is healthy (both physically and genetically) and temperamentally sound. We have sold to many individuals from coast to coast in the US. Our pups/dogs are working with law enforcement agencies, security professionals, companion dogs, as well as filling the role of personal protectors. If you would like to get on our waiting list for a German Shepherd or Malinois puppy, there is a $400 non-refundable deposit to hold your pup. Contact us for more information or to get on the waiting list.
Interested in learning more about the German Shepherd Dog? Consider attending a German Shepherd seminar presented by Conifer Canine on January 20, 2024.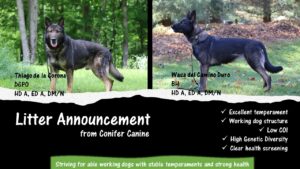 Thiago/Wasa litter is expected in late December; deposits accepted starting 12/1. This is a backcross litter (as Wasa is an outcross) where we are expecting strong working dog potential coupled with the health which genetic diversity tends to produce as well as nicely balanced temperaments. While both parents are registered (Thiago with the AKC and Wasa with the RSV2000), these puppies are not AKC candidates.
Salsa
Born: February 22, 2023
Salsa is a female sable/red detection dog prospect, very nice potential. She will do best in an active home even though she can settle down.  Inquisitive, confident, active. $2800 + tax.  She has a 0% inbreeding coefficient across at least 9 generations.  She has a sweet side and eager to please.  She is very alert and will let you know when a stranger approaches the home.
Tater
Born: March 7, 2023
Tater is a male Labrador retriever that we hoped would end up as a police detection dog.  However, Tater would rather be a pet…the thought of sniffing drugs all day just doesn't sound appealing to him lol.  He is a social boy with both humans and dogs, $800+tax, AKC registered, and current on shots.
Tex
Born: February 22, 2023
Semtex (Milka x Thiago) is a sable/red male, energetic, handler-attentive, AKC.  He looks and acts much like his sire…a huge compliment!  Tex is a solid prospect for patrol, protection, and/or detection work.  He is super strong yet has very nice trainability.  His training is continuing to move forward.  Contact us for current pricing.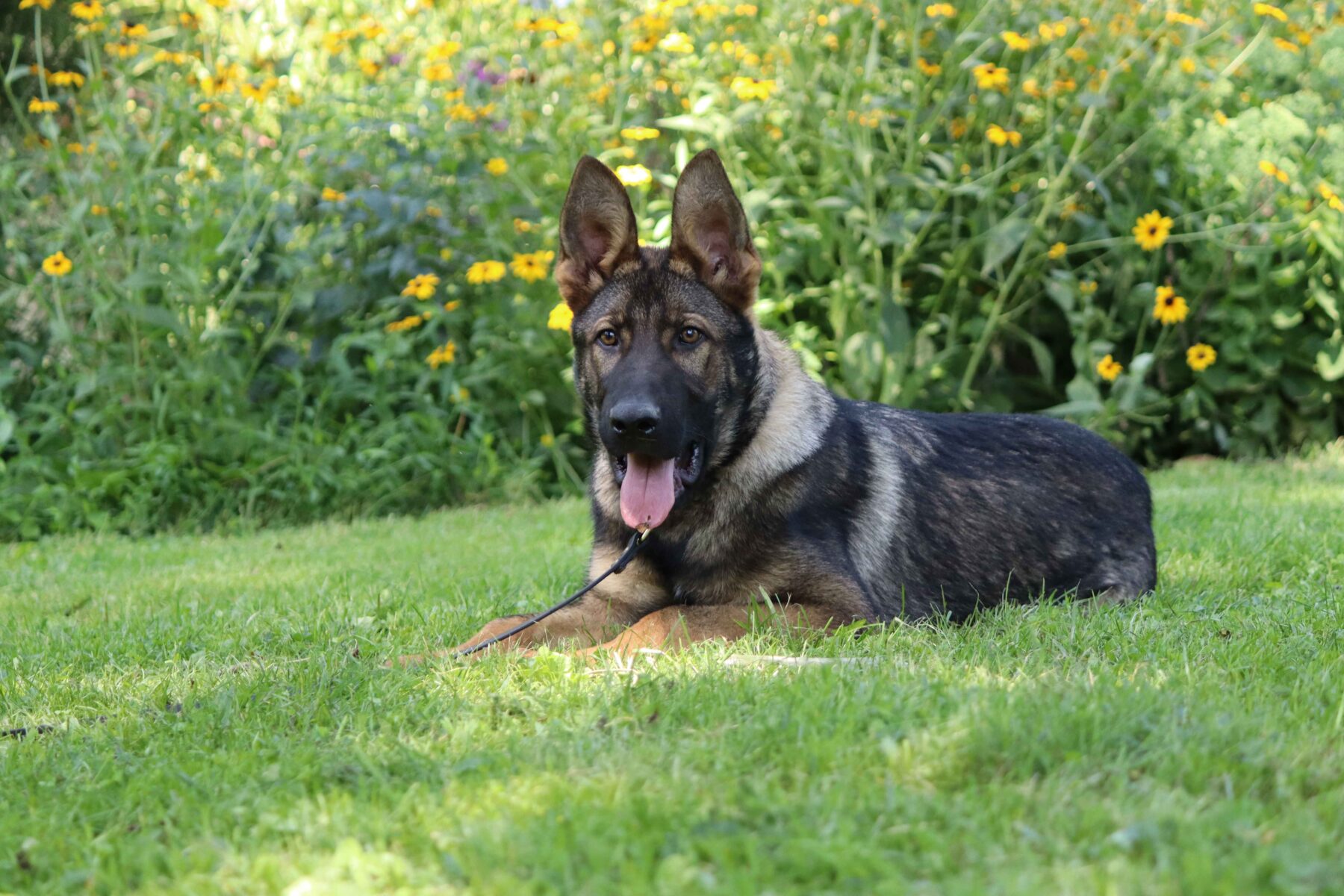 Puppy Prices And Info
Companion German Shepherd puppies (at 8 weeks of age) are $1000 + tax. Working prospect puppies (at 8 weeks) are $2500 + tax. (What's the difference between Companion and Working puppies?) Our puppies include a hip/health guarantee. Pups are released at 8 weeks of age. For those purchasing a pup prior to 8 weeks old, a non-refundable deposit of $500 will hold your pup. In the event the preferred sex of the puppy is not available in this litter, the deposit will be refunded; otherwise deposits are considered non-refundable. Prices subject to change without notice, although never after a deposit is received.
We breed healthy parents from proven working bloodlines to produce strong, healthy pups of stable temperaments and solid nerves. Our goal is to produce a real German Shepherd and Belgian Malinois adding to this prestigious breeds, never taking away. Our pups are prospects for personal protection, obedience and/or agility, ScH, PSA, Police patrol, military working dogs, narcotics or explosives work as well as super family companions.
We usually whelp one or two litters a year. Occasionally we have older German Shepherd puppies for sale or young adult German Shepherds available (see our DogBlog article on easily bonding with older puppies or young adults). Puppies are released at 8 weeks of age, after having been examined by a licensed veterinarian, receiving their second shots, and receiving many hours of observation and interaction. They will be well on their way towards house-training and socialized to as many things as possible for their age. Check back often to see if we have any German Shepherd Dogs or Puppies for sale as well as Malinois puppy for sale.