Sorry, we do not have any puppies currently available.
Please check back in the future to keep updated on upcoming litters.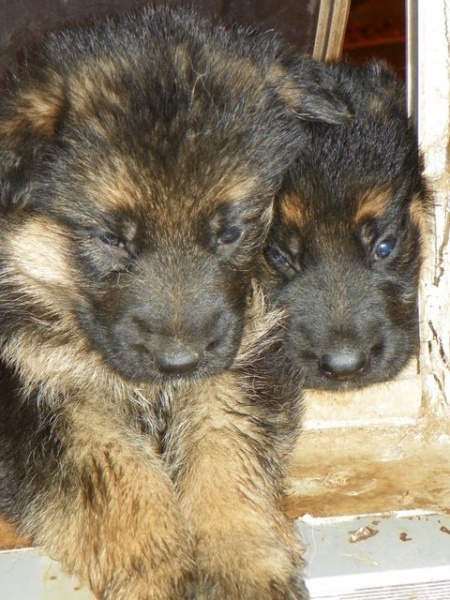 Puppy prices and info:
Companion German Shepherd puppies are $1100 + tax. Working prospect puppies are $1800 + tax. (What's the difference between Companion and Working puppies?) Our puppies include a hip/health guarantee. Pups are released at 8 weeks of age. For those purchasing a pup prior to 8 weeks old, a deposit of $300 will hold your pup. In the event the preferred sex of the puppy is not available in this litter, the deposit will be refunded; otherwise deposits are considered non-refundable. Prices subject to change without notice, although never after a deposit is received.
We breed healthy parents from proven working bloodlines to produce strong, healthy pups of stable temperaments and solid nerves. Our goal is to
produce a real German Shepherd; adding to this prestigious breed, never taking away. Our pups are prospects for personal protection, obedience and/or agility, ScH, PSA, Police patrol, narcotics or explosives work as well as super family companions.
We usually whelp one or two litters a year. Occasionally we have older German Shepherd puppies for sale or young adult German Shepherds available (see our DogBlog article on bonding with older puppies or young adults). Puppies are released at 8 weeks of age, after having been examined by a licensed veterinarian, receiving their second shots, and receiving many hours of observation and interaction. They will be well on their way towards house-training and socialized to as many things as possible for their age.  often to see if we have any German Shepherd Dogs or Puppies for sale.
Conifer Canine has teamed up with NuVet Lab products!
NuVet is all-natural, human grade nutritional supplement that gives outstanding results! It is Safe, Natural, Water Soluble, and easy on the stomach. Great for puppies too!
NuVet is guaranteed to eliminate your pet's ailment – or your money back! Strengthens the immune system.
Allergies
Skin/Coat problems
Scratching, Biting, Itching
Hot Spots
Seizures
Arthritis-Joint problems
Stress/Anxiety
Heart Disease
Diabetes/Liver problems
Cancer/tumors – many types
Cataracts
Ear infections
Digestive problems
Tear staining
Urinary incontinence
Premature aging/low energy
Call now to Order
8-5pm PST, M-F
800-474-7044 Use order code 84786
Save 15% and never run out by choosing "Auto Ship" at checkout!
For more info and/or to order NuVet or NuJoint CLICK HERE!