Service dogs provide a host of benefits to their owners. With expert training, they can sense the needs and wants of humans and react accordingly. With a feeling of companionship, that foundational bond is truly at the center of any healthy owner and dog bond.
That's why it's no surprise that service dogs help veterans with PTSD.
It's estimated that 8 percent of Americans suffer from PTSD, or post-traumatic stress disorder.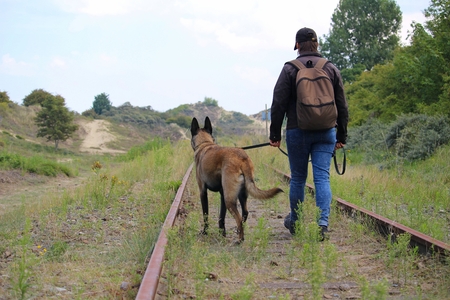 Among veterans, the issue is even more profound, as many veterans have been in combat. But recent research has shown that a service dog is not only a man's best friend, but one of the most essential aids to a veteran. The data holds hope for those with family members or loved ones suffering from its effects.
According to one study, symptoms of PTSD were lower among veterans who had service dogs, compared to those who did not. Researchers said the service dogs, for the reasons mentioned above, offer physiological and mental advantages for veterans; the service dogs' ability to help with a feeling of security and combat any anxieties are particularly useful with this population. And that, in the end, has led to less anger, better sleep, and less anxiety.
It is thrilling to see that service dogs are being recognized for the incredible support and resource they can be for so many different people. And those service dogs start in the hands of expert trainers.
At Dog Trainer College, we offer professional training courses for those looking to become a service dog trainer. Whether your desire is to train Medical Alert Service Dogs, or the PTSD service dogs helping our veterans, our classes will provide you with all of the knowledge and hands-on experience you need to succeed. Call us at 812-650-2394 today to learn more!