Service dogs help individuals with disabilities perform their day to day activities. Their tasks include those that provide physical, psychiatric, sensory, or intellectual assistance to those who need it.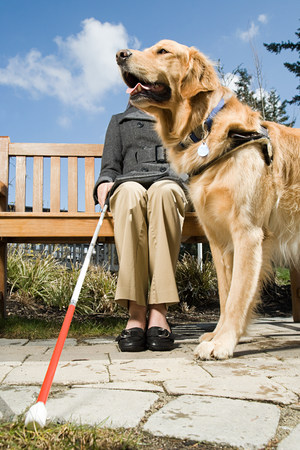 If you are working closely with a service dog, here are some of the equipment pieces that are recommended to use to help with training.
Add a Collar
Your dog should always be wearing a collar. One of the main functions of a collar is to allow the dog to be tethered on a leash. However, today, they are used to hold a dog's identification. When training a service dog, collars are permitted for use only for the safety of the dog. It is never allowed to use electric, shock, prong, pinch or choke collars on any dog during any certification.

Make Sure Your Service Dog Has a Leash
Although service dogs are trained to stay beside their owner in public, a leash helps maintain their safety. Leashes come in many different lengths for your dog, but the most recommended for service dogs ranges from four to six feet in length. It's always best to invest in a leash that can withstand different weather conditions and reflect in the dark.
Don't forget to keep in mind the duties that your dog will be performing. If they are pulling a wheelchair, you will need a sturdy leash that can handle the weight.

Head Halters for Service Dogs
Head halters are often used for training new puppies. However, they are also useful to assist owners with disabilities. Many service dogs will wear head halters as part of their working uniform, even if they aren't technically needed. They are used as a training tool to teach loose leash walking and handler focus.

The halter allows the dog owner to easily communicate their directions with their dog by using a simple hand movement. They are especially useful for owners who cannot speak loud enough for their dog or are incapable of speaking at all.

Harnesses to Help Guide Owners
A harness should fit snugly around your dog and provide enough space for its front legs to walk comfortably. The vest is especially useful for dogs that guide their owners or provide support and balance to their owners.
Does Your Service Dog Wear a Vest?
Although it's not required for your dog to wear a vest while in public, it's often encouraged. Vests make your dog identifiable as a service dog. Usually, if you walk into an establishment, and your dog is wearing a vest, then they will be less likely to be questioned.

A vest can also provide warmth and protection to your dog and serve a function to the owner. Purchasing a vest with compartments will allow your dog to help carry various items that the owner needs. Compartments in the vest can be used to hold cell phones, medications, IDs, and cards that the owner can quickly grab.

Protective Paw Mittens or Dog Booties
If your dog is going to be assisting in different conditions, it may be helpful to protect their paws by using mittens or booties. The pads of a dog's feet are soft and prone to injury. Dog shoes can help provide extra cushioning and additional support that will eventually lead to better mobility. Protective boots are a great way to help protect your pet so they can perform their jobs efficiently.
At Dog Trainer College, we offer professional training courses for those looking to become a service dog trainer. Whether you are passionate about training Medical Alert Service Dogs, Psychiatric Service Dogs, or Dogs assisting those with Seizures or Autism, our classes will provide you with all of the knowledge and hands-on experience you need to succeed!

To find out more about our current classes, call us at 812-650-2394 today to learn more!