If you enjoy helping animals and working closely with others, you should consider dog training as a career! However, not just anyone can become a professional dog trainer. There are collegiate-level courses you can take to become a professional dog trainer. While maintaining a forward-thinking approach, classes can teach world-class methods that are effective, humane, and proven to be successful. If you're considering becoming a professional dog trainer, let's look at some of the courses that you're likely to take!
Master Dog Trainer Course
The Master Dog Trainer Course helps you become a confident, competent, and effective dog trainer. During this time, you can learn every skill and technique you will need to train trailing dogs, protection dogs, obedience dogs, service dogs, and more. Throughout this course, students can work with experienced dog trainers and practice teaching their skills with a variety of canine breeds. Once you finish this course, you'll feel prepared to start training!
Behavior and Obedience
To reinforce obedience, learn positive dog behaviors, and create trainable dispositions in dogs, we recommend taking the behavior and obedience training. This training is important because it is often used in other, more challenging training types. Plus, you will learn a variety of methods and techniques for training while you're working with different dog breeds. As a trainer, you will learn how to reinforce obedience, positive behaviors, and trainable dispositions in dogs so that they become your ideal loyal companion.
For your convenience, you can also take this class online!
Police K9 Instructor
Police K9 dogs are trained to work alongside officers and have a lot of job responsibilities. They are working dogs who are responsible for finding and apprehending suspects, detecting dangerous substances, all while keeping communities safe!
In a police K9 training class, students will learn how to train all the behaviors needed in active police dogs, trailing dogs, scent detection dogs, and other military working dogs. Also, you will learn about training equipment, record keeping, tracking/trailing, explosives, and narcotics detection, drive development, first aid, and much more. By using real-life situations, you will learn what it takes to train active K9 units.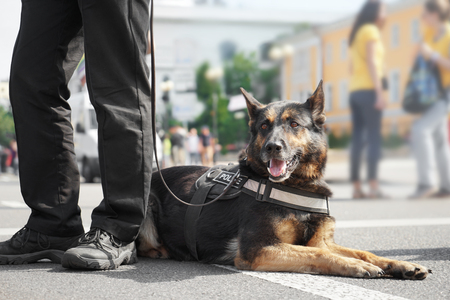 Service Dog Trainer
If you plan on working with psychiatric service dogs, medical alert service dogs, or dogs that help assist those with seizures and autism, you should take this course! The service dog trainer courses will teach you the fundamentals of dog training but will emphasize on service dog training.
Taking a service dog trainer course will help you learn a full range of training obedience and specialized tasks that are necessary for service dogs to learn.
Scent Detection Training
If you work closely with a dog, then you quickly recognize that they have an excellent sense of smell. Many dogs will use their talented noses to assist with tasks that involve scent imprinting, detection, first aid, proofing, problem-solving, case law, among others. In a scent detection training course, you will learn how to conduct searches, including vehicle and building searches.
After the scent detection course, you will better understand how scent detection works and the best situations to incorporate it. With appropriate training, dogs can learn how to detect bed bugs, cancer, explosives, antler shed detection, and more!
Cadaver Detection
With their incredible sense of smell and exceptional tracking abilities, dogs play an essential role in crime scene investigations, missing person cases, and forensics. Through cadaver dog training courses, students can learn how to train dogs to locate human remains in all types of situations and during investigations. As an instructor, it's important to learn handling techniques, scent theory, search methods, obedience, proofing, alerting, and how to conduct searches across land and water.
At Dog Trainer College, we are your source for professional dog training! If you're ready to start preparing for your career, call us at 812-650-2394 to learn more about our professional dog training courses!