An education at the Dog Trainer College is an investment.  There are certainly costs involved however those sacrifices will be rewarded many times over to those who apply themselves.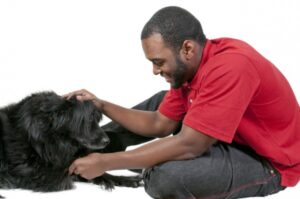 Some misinformed people feel that an education or career as a dog trainer is a low-scale accomplishment.  Nothing could be further from the truth!  Much like an engineer, attorney, media marketer, or human resources personnel invest in an education at a state university, the dog trainer must seek an establishment that deals directly with their line of work:  dog training.
The Dog Trainer College has established a reputation for excellence and quality in training professional dog trainers.  Our graduates are sought by dog training facilities across the country.
That's where the investment comes in.  Your tuition, lodging, and other educational costs are not merely "expenses."  Rather, it is an investment in seeking a career that is both rewarding and satisfying.  Just like a homeowner who hires an electrician wants to know that the company/individual they hire knows what they're doing, so it is with dog people.  They want to know that the person/company they commit their dog to actually knows what they're doing.  Official certification from a reputable dog trainer school shows the prospective client that this dog trainer has proven their abilities.  They haven't simply signed up for a cheap online course with book knowledge only; but they have invested time and money in going all out to get a solid, professional education.
Each course at the Dog Trainer College is very comprehensive and focused.  These collegiate level courses empower students to reach beyond the ordinary.  Students are required to exhibit both head knowledge and hands-on training prior to receiving certification.  Their knowledge is tested (i.e. proven) in the classroom and on the training field.  They've fed their brains with information and strengthened their legs by walking miles and miles while training a variety of dogs in a variety of ways.
Yes, an education at the Dog Trainer College is an investment indeed.  And, barring World War III, it is an investment that is almost surely to pay off.