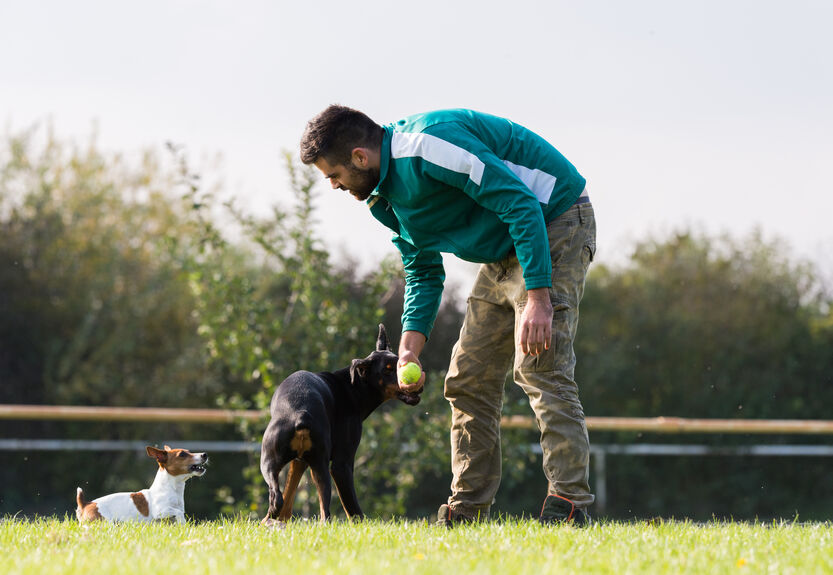 If you're interested in becoming a dog trainer but are unsure if an in-person or online training course is right for you, we invite you to learn a little more about each to see which fits your needs and busy schedule best.
Although in-person courses are typically the preferred option because of the hands-on training you will receive, online classes are great for those who require a bit more flexibility.
While each course will give you the necessary education and certification to be a dog trainer, it is important to read on to see which is right for you.
In-person training provides hands-on experience
One of the best reasons to choose in-person training is for the hands-on experience you will receive. Most professional dog trainers agree, there is no substitute for "getting your hands dirty" and working on your training techniques with a real-life dog.
An in-person course will help you identify problem behaviors and developmental issues, different types of canine aggression firsthand and will have you prepared for nearly any situation that may arise when training a dog in the future.
With an in-person course you will also have the added advantage of having a certified and professional trainer by your side that can give you advice or assistance while you're honing your skills.
Online courses are great for a busy schedule
Whether you already have a career and are looking to make a big change in your life, you have kids that need to be taken care of or anything in between, we understand that it can be tough to drop everything and go to a dog trainer college.
That is why several dog trainer programs now offer online classes to meet the needs of those who have other important things on their plate.
An online course is great because it can be started at any time, has a self-determined pace of completion, and will teach you all the same tools you get with an in-person course.
Online courses will teach you the required basics
While you will not be getting the hands-on training with dogs that you would with an in-person course, you will still be taught all the techniques required to be a professional dog trainer and will get ample time to speak with your instructors to gain further insights via video sharing.
If you simply cannot join an in-person course because of the other requirements in your life, rest assured that you will get all the training you require. You can even complete the course in as little as 6-8 weeks!
In-person training teaches advanced techniques
While you will certainly learn enough with an online course to become a competent dog trainer, there are certain more advanced techniques that can only be learned through attending classes in an in-person setting.
Attending a reputable dog trainer school will help you to learn decoy skills, practical scent detection, service dog training and more that you simply can't learn from looking at a computer screen.
With in-person training, you will also know what it is like to be bit by a dog (through the use of bite suits, bite sleeves) and will know how to react and control these situations.
These are all important skills that will more than likely come up at some point during your professional career, so it is never a bad idea to have experience with them.
At Dog Trainer College, we are proud to provide both in-person and online dog trainer courses to prospective dog trainers.
Each of these courses will teach you the ins and outs of becoming a professional trainer and will have you prepared for career path you may choose in this field.
As mentioned above, our online courses can begin at any time and sign up is now available for our in-person courses for the spring of 2022 (spring classes begin March 7, 2022). Our courses are college-level and certification will be given for both the in-person and online versions of the course upon completion.
To learn more about our programs, we invite you to reach out to our team at 800-795-4201 today!