Let's attempt to illustrate what a typical day looks like at Conifer Canine's Dog Trainer College.  But, one of the advantages of attending the dog trainer school is that no two days are exactly alike.
Once you decide to become a professional dog trainer, apply online here. We'll get back with you ASAP with your acceptance/rejection. Once accepted, financial aid applications or GI Bill applications can be initiated, if needed. Once the paperwork is all complete, it's a matter of waiting for the start of your class and commencement of your dog trainer courses. Here we go!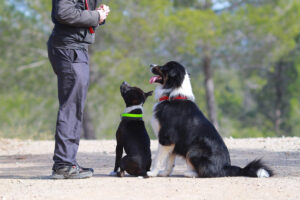 Class starts at 9am in the Learning Center. Students who bring dogs with them show up about 8:45 to have the time to check their dog/s into the kennel and get to the Learning Center by 9am. Class is opened by one of our Instructors by taking attendance. Typically, there is time allotted to answer any questions that students may have regarding homework, something taught in yesterday's lectures, or a last-minute question before a test, etc. We encourage our students to work hard, take good notes, and have fun.
Some days will proceed to lectures and/or video instruction.  The lectures are not dry, starchy monologues because we like to laugh and enjoy life, just like most other people.  Today's lecture was about the Decoy's Job and what he/she needs to do while safely catching dogs on the sleeve or suit:  what to do and what not to do.  Lectures can vary in length from 30 minutes to 3-4 hours.  Students may ask questions during the lectures.  Instructors are always eager to answer those questions and be sure everyone is on the same page.
Whether it is after a lecture or simply the first event of the day, most every day includes applied, hands-on training. This is where students have the opportunity to implement what they have learned in the lectures. For example, this morning's training schedule included doing detection work. We split into groups and worked the dogs in narcotics, explosives, antler shed, and bed bug detection. Each class is different, so there may or may not be all of these skills in each class; depending upon what the students want to imprint their dogs upon and what the training schedule is with the dogs we have here at the time. We honed the dogs' alert, pointed out areas where the handler/students can improve, and were again impressed at how good the dog's nose it.
Most days also include some obedience work. Obedience is foundation for everything else. We talk about and illustrate how to improve the dog's behavior, encourage his eager recall, heeling, loose leash walking, etc.
The working dog classes usually include going off-site for training from time to time. We have access to over a 1500 acres for trailing, warehouses for building searches and tactical scenarios, ponds for decoy work (and student enjoyment) and much more. Some of these locations require driving (from 5 minutes to 2 ½ hours away), in which some students carpool.
Lunch is from 12-1. Some students drive into Spencer (10 minutes away) and eat at one of several restaurants. Others utilize the student lounge area, complete with refrigerator, table, chairs, and microwave. Some eat there, in their own vehicle, in the classroom, or sit on the grass outside. Others work on homework, talk/text friends, give their dogs a break, etc. This hour is yours ????
After lunch, we're back at it again. Three more hours to learn, gain experience, and grow as a trainer! Since detection work was on the menu this morning, the afternoon will include bitework for the Master Trainer and K9 Instructor courses. Students suit up, dogs are brought out, and the excitement begins. We work on any problems a dog may have as well as any problems that a student may have. We had dogs who are super drivey, others who show hope of increased drive, and pointed out areas where the decoy can react more safely and smoothly when interacting with the dog Various venues and scenarios are experienced in order for the student to get a balanced grasp of what it takes to be a good decoy as well as an effective handler.
On some days, students and Instructor/s reassemble back in the Learning Center for more lecture or study. On other days, the entire afternoon may be spent with hands-on training. Today, we proceeded to tracking/trailing work. Moose the Bloodhound knocked it outta the park again ???? Other dogs of various breeds did well also. Tracking/trailing is one of those skills that takes a lot of practice and experience in order to be proficient. Students learn how to start a trail, how to solve a problem encountered on the trail, how/when to reward the dog for his/her work, and much more!
Training takes a lot of effort. After running, jogging, and walking for miles, it can be tiring…yet always rewarding. Some students have said they have lost weight during the class because of all the activity. Others have kept track of the miles walked…with the number of 8-10 miles a day being quite typical for some of the working dog courses.
Class is dismissed at/around 4pm. Today, we didn't have enough time for a tracklayer to leave a 30-minute trail so we were dismissed 10 minutes early. Yesterday, we were five minutes late.
Students make their way to their lodging, whether the school's lodging or otherwise.  Some evenings will include homework, reading requirements, etc.  Our hope is that once this is done, students have time to unwind, get a good night's sleep, and be ready to do it all again tomorrow!  We want your experience here to be safe, productive, fun, and effective.  We've designed the courses to be such. If you want to become a professional dog trainer, check us out!